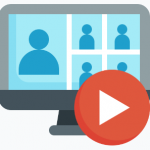 To be determined soon. Meanwhile, to be notified when it is announced, use the form to the right to join our mailing list.
Or, watch the recording below, of our last webinar.
Subscribe to hear about any special offers and new features.

Training: Fitting the Pieces Together
Good training starts with the building blocks and then shows you how they work together.
We highly recommend training through our Accredited Trainer. Liz Donovan is accredited by SMMware for the implementation of and training in SMMware.
If you have started a subscription but have had trouble knowing where
to start, Liz can get you moving. If your site is live but you know there are more features you could be using, she can help with that as well.
Liz already had experience and success using SMMware prior to becoming our trainer. And before that, years of experience working in
Senior Move Management.
Liz is an independent agent, and you can contact her per the info below: