Invoice Manager
As Team Lead, your main involvement with Invoices will be to approve one after an Administrator has created it. We'll begin the discussion of the Invoice Manager with the listing screen, shown below.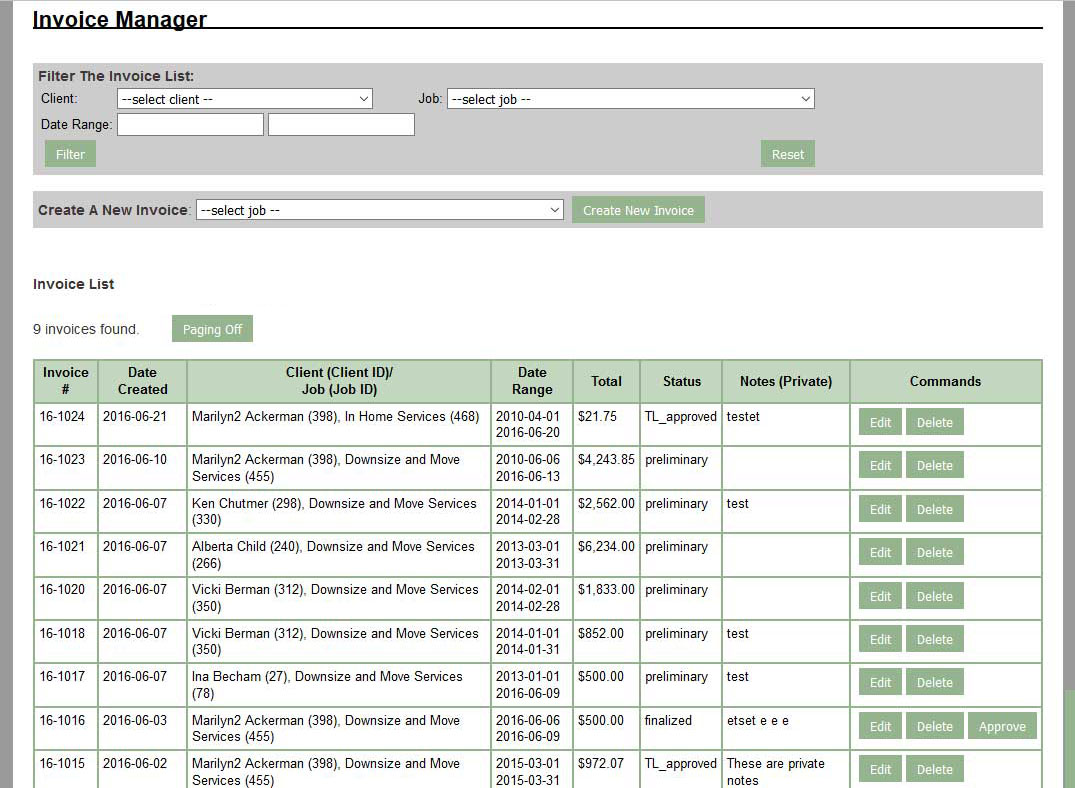 At the top of the screen is a filters section. Normally, all invoices that have been entered in the system are selected, although you will only see one page/screen's worth at a time. You can set the 'client' and 'job' dropdowns as well as a date range in order to limit the invoices selected.
The filters section:

The screenshot below shows a typical line item from the listing screen, for a single invoice. The red highlighting shows a status of TL_approved, short for "Team Leader Approved".

The invoicing system includes an approval process to help make sure that the client receives an accurate invoice.
When an invoice is first created, it will have a status of "Preliminary". This is a working copy, and is not yet ready for you as the Team Leader to approve. Once they, the invoice creator, are satisfied that the invoice is complete, they will change the status to "Finalized" so that you (as the Team Leader) can approve it.
When an invoice has a status of "Finalized" it's line item on the Listing Screen will include the Approve button. The button appears for you only if you are the relevant Team Leader. To handle unforeseen circumstances (Sometimes the Team Leader is unavailable for approval but an Administrative level user is confident that it is correct) the Approve button also appears for Administrative Users.

Once the invoice has been approved, it will have a status of "TL_approved". At this point, the detail view for that invoice will include the "PDF" and "Email" buttons for the available formats (Summary, Detail, Rollup). Clicking on these generates PDF's of the invoice which are suitable for sending to the client.
The summary format includes only one line item for each category of billing (one for hours, one for expense, one for mileage). The detail format includes a line item for every Associate on a given day, so there are typically multiple entries per date. The rollup format combines all the entries for a given date into one line.