Tasks/Notes/Calls and Homepage Sections
An Admin User can edit and delete Tasks/Calls created by others, compared to a Basic User who can only view items unless the item was created by them or assigned to them.
Sections for Tasks, Notes, and Calls can be found under Inquiry, Clients, Jobs, Organizations, and Contacts. See the Basic User manual for an introduction to Tasks Notes, and Calls.
Homepage Sections
We'll only discuss sections that are unique to admins.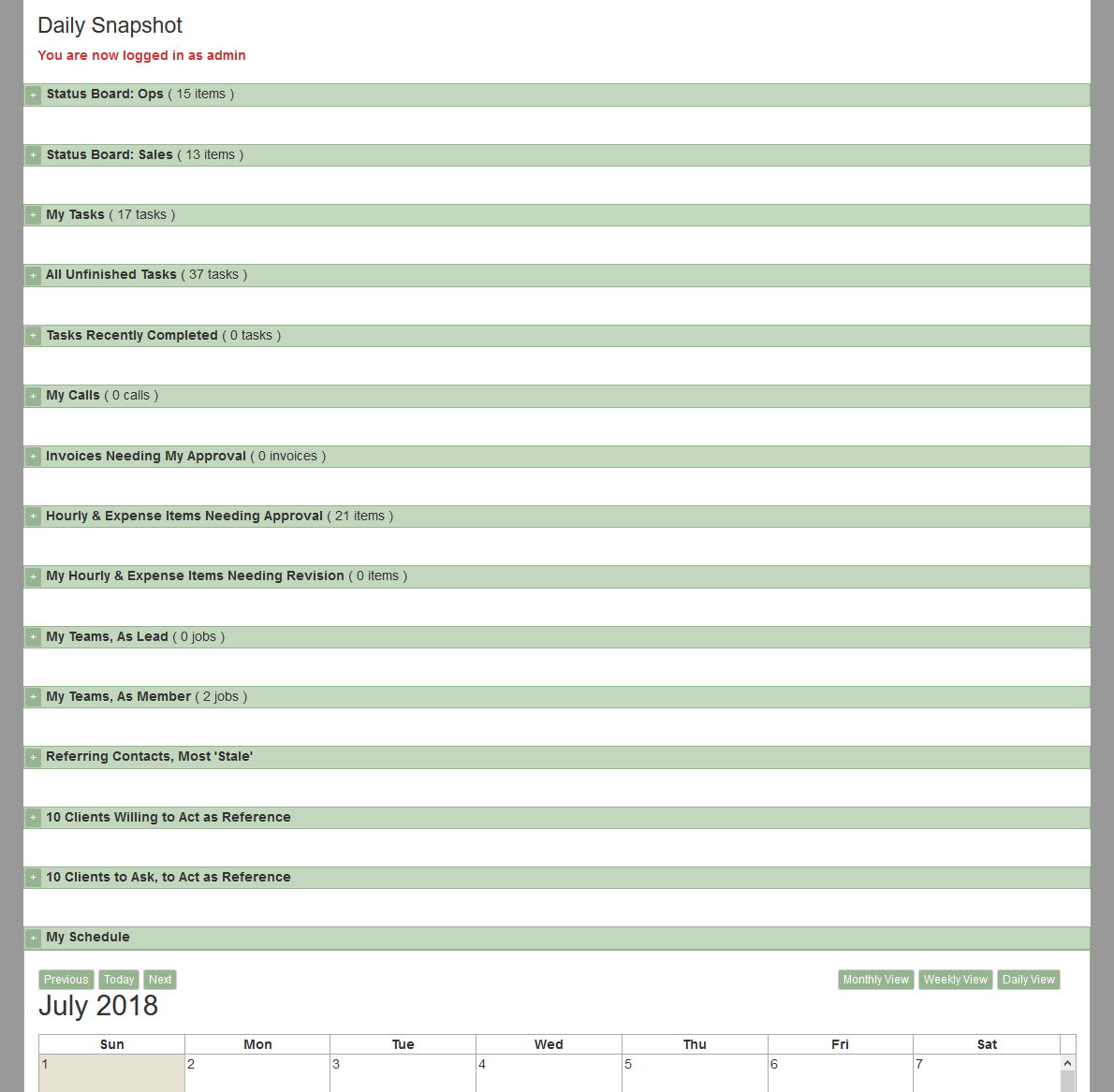 The Status Boards
There are two status boards, one for jobs and one for sales. The color coding makes it easy to take in status at a glance and lets you gauge the health of your company for sales or jobs.
Status Board – Sales
On the homepage, you now get a list of all open Inquiries, each with a color coded icon categorizing how the sales lead is progressing. A quick scan down the list tells you at a glance the health of your sales pipeline. The status/description are pulled from the Inquiry Profiles.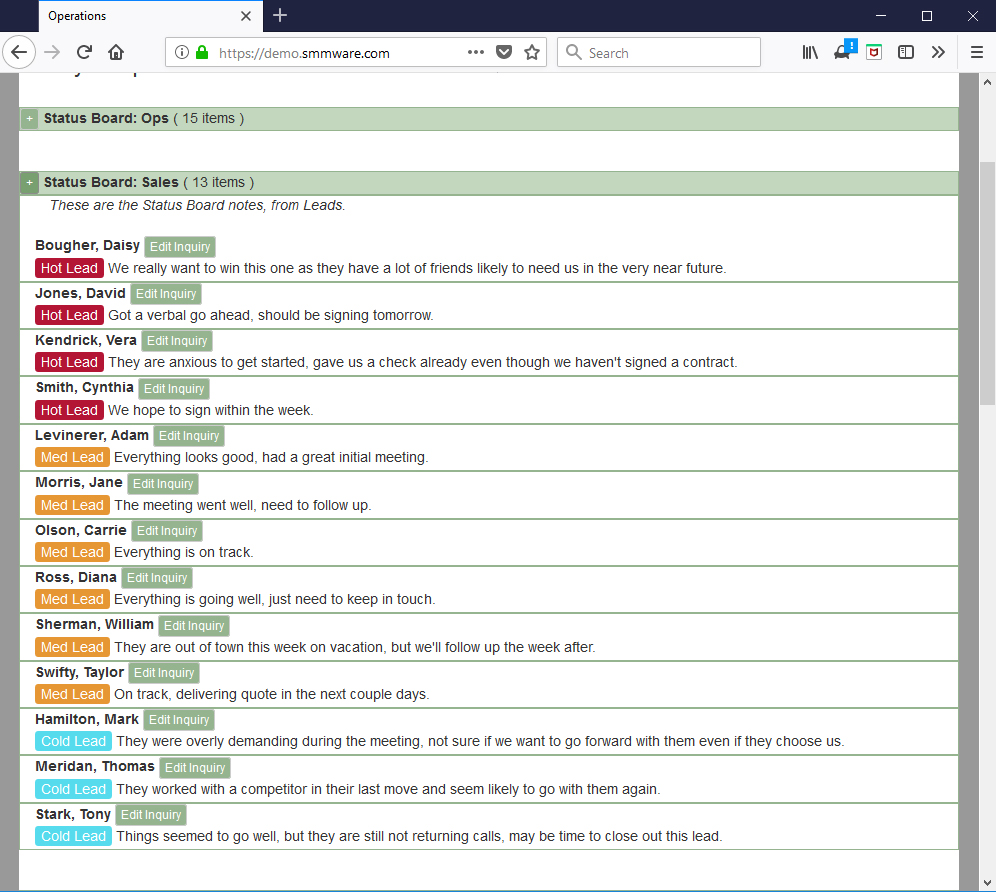 Default Icons:
1) Red, and reads "Hot Lead"
2) Orange, and reads "Reg Lead"
3) Ice blue, and reads "Cold Lead"
Each item also gets a short description of how things are going with this Inquiry. The icon and text are set in each Inquiry Profile.
The number of icons, their labels, and their colors CAN ALL BE CUSTOMIZED for your SMMware installation.
Status Board – Jobs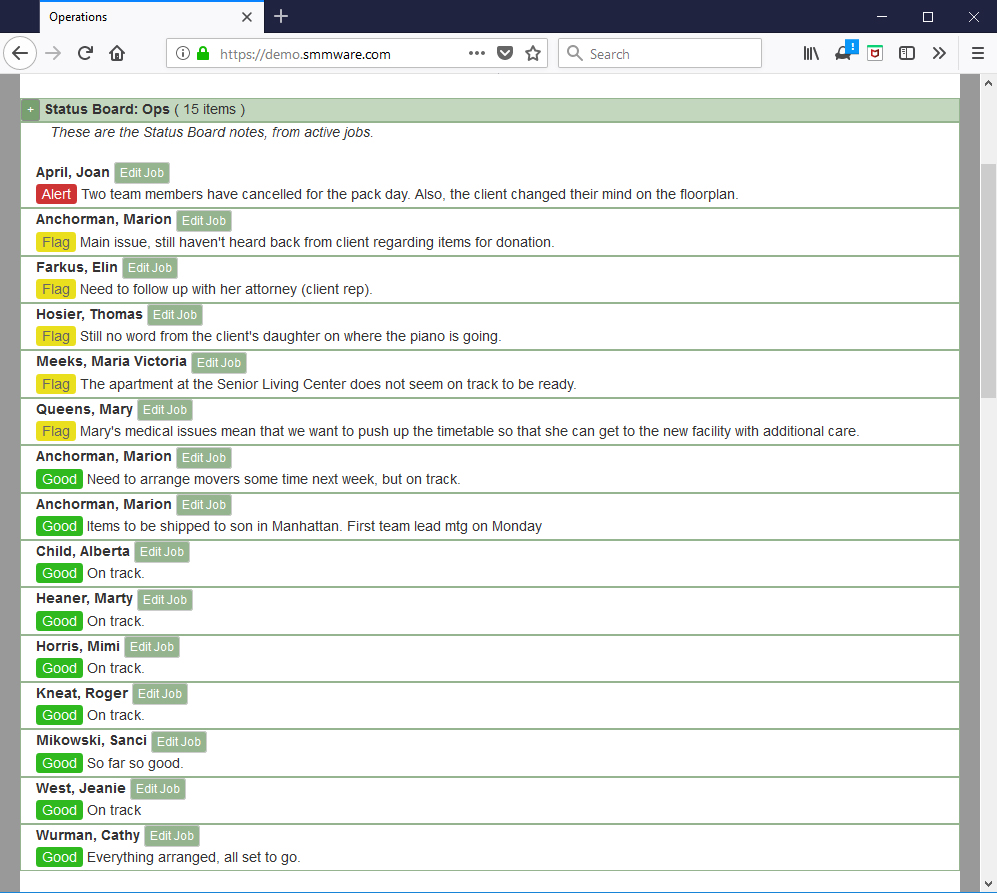 Default Icons:
1) Green, and reads "Good"
2) Yellow, and reads "Flag"
3) Red, and reads "Alert"
As with the SALES STATUS BOARD, the icons can be customized here as well.
More ideas for Sales icons
The default SALES ICON scheme above is based on the likelihood of winning the work. If instead you want an approach based on timing…
1) Red icon, reads "Behind"
2) Orange icon, reads "On Track"
3) Green icon, reads "Quote Sent"
Or based on Sales Stages
1) Light green icon, reads "Met With"
2) Slightly darker green icon, reads "Gathering Info"
3) Medium green icon, reads "Quote Sent"
4) Dark green icon, reads "Job Won!"
You can even have all of the above icons available, combining approaches. It is up to you!
By default, higher level users see the Status Boards, but who can see them is also configurable.
Referring Contacts, 10 Most Stale
These are contacts who refer business to you (Have the field "Refers Business to Us" checkmarked in their Contact Profile), starting with the one you haven't contacted for the longest time. The intention is to help you avoid losing track of them until you realize they haven't sent you any business lately.
10 Clients, Willing to Act as Reference
This list has clients whose "Act as reference" field is set to "Yes". This section is where you go when on a sales call and someone asks for references.
10 Client to Ask, to Act as Reference
This section lists clients with closed jobs who have their "Act As Reference" field set to "Unasked" in their client profile. The intention is to help you keep a large number of clients who you can ask to serve as a reference.