SMMware can help your company with your sales process.
When you first contact a potential client, you can enter them into the system as a new "Inquiry" record. This page collects all the same information as for a client, such that when they become a client you are ready to go.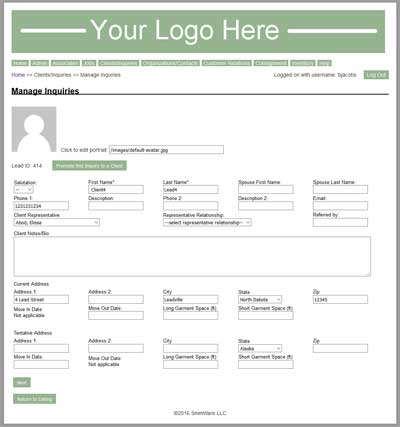 Should they move on to become a client, you simply use the "promote to client" command to seamlessly start treating them as a new client.

In a Client's profile, SMMware allows you to tag whether that client is willing to act as a reference. You can sort the client listing based on the value of the 'act as reference' tag.
Also in a Client's profile, you can indicate who referred the client to you, based on the generic category of the referrer (Ex: Realtor), the company (Ex: John Smith Realty), and the person (Ex: Jane Doe). SMMware provides a Referral Report which shows you where your business is coming from and how much that business was worth. You can filter the Referral Report based on generic category, on company, and on a date range. Together these give you a powerful tool for strategic business planning.
Both during their time as an Inquiry and also as a Client, you can use the Customer Relation Manager (CRM) feature to take notes relevant to the client regarding your last contact. You can also set reminders to yourself to receive an email regarding a face to face meeting or phone call. When an Inquiry is promoted to be a Client, any CRM items you have created go with them.